Official Site
Jakps Likes Noire's original post is here
The first post was edited by vampko to bring all the information about the game into one place. The compiled information was gotten from various sources and compiled by TheFallenKnight (and later added onto and reorganized)
Title: Chou Megami Shinkou Noire Gekishin Black Heart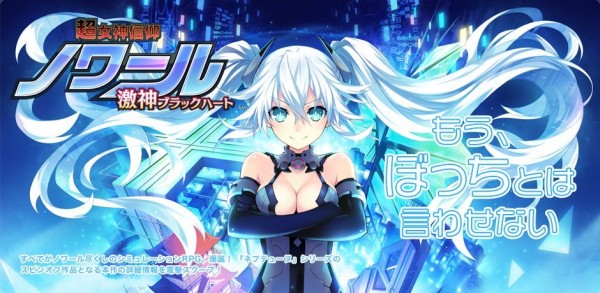 Story
Gameshijokai [you can translate as the "World of game business"] - a world that is falsely similar to Gamegyokai:
Purple Heart and Neptune governing Planeptune.
White Heart and Blanc governing Lowee.
Green Heart and Vert governing Leanbox.
Black Heart and Noire governing Lastation.
The four goddesses have been competing and fighting every day to obtain the complete control of the world.
However, when Noire is one step away from gaining complete hegemony, someone steals the goddesses' powers!
In order to save a world that has collapsed, the goddesses agree on collaborating towards the unification of Gameshijokai.
As a result, before the beginning of a new adventure, Noire has an encounter with someone...?
System
- Deep, strategic tactical battles!
- Cute deformed mini-characters wreak havoc in cramped maps!
- Increase friends with numerous successful battles, and obtain the haegemony of Gameshijokai in your hands!
- Plenty of maps that offer peculiar situations!
- Maps full of variations, ranging from something you have already seen to something you're experiencing for the first time!
- Taking into account terrain and the gimmicks present, let's try and capture each map!
- Scatter enemies using extremely flashy skills!
- The finishing moves with extremely flashy production values are the key that separates winning from losing!
- The finishing moves capture the distinctive personality of each character, so let's blow the enemies that stand in the way!
- Isun (AKA Histoire) is in charge of assigning missions around the world from Lastation
- Almost all character are shown in the Megami Hotel (first appeared in V)
Gimmicks
Lily System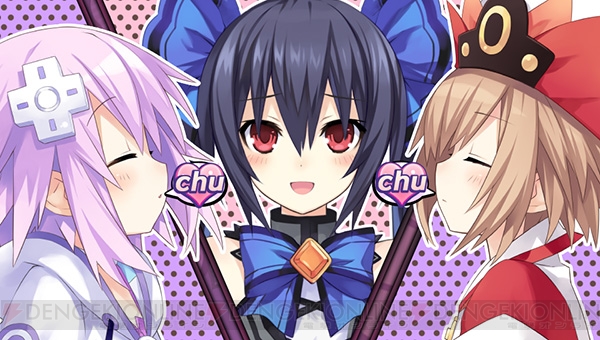 Status Changes
PSW
Opening Song
The opening song will be sung by Asami Imai and the name of the song is, "Shikokku No Sustain"
Characters:
Noire/Black Heart
CV: Asami Imai
Noire Quote: "This Shijokai… I shall unify it!"
Black Heart quote: "I'll crush that confidence right in front of you!"
The leading character of this game, and the goddess of "Lastation", one of the four parts of Gameshijokai. She's not easily honest about her own feelings, and often ends up saying the opposite of what she thinks; a so-called tsundere.
When she accesses her goddess form, her personality and mood change, and she ends up saying cool things mixed with bad things.
Secretary
CV: None
The main character of this game. Assigned as Noire's secretary due to some unusual circumstances.
Neptune/Purple Heart
Neptune quote: "The leading character is me, I said me!"
Purple Heart quote: "It's all right. Because Noire isn't alone."
Original main character of the Neptune series. The goddess of "Planeptune", one of the four parts of Gameshijokai. Her personality of almost never stopping butting in on others' business sometimes causes trouble.
After accessing her goddess form, she becomes a completely different person from before her transformation: becoming calm, cool and collected. She also apparently has time to think by herself.
Blanc / White Heart
CV: Kana Asumi
Blanc quote: "It's necessary to have space to be able to read in peace"
White Heart quote: "Do you really think you can do as you please!"
The goddess of "Lowee", one of the four parts of Gameshijokai. She's usually quiet and taciturn, but if she gets angry she goes brutally out of control. She is the youngest looking among the goddesses and the one most bothered about it.
When she accesses goddess form her quiet self also disappears, and she shows no restraints in using rude language.
Vert / Green Heart
CV: Rina Sato
Vert quote: "If we're talking about style, I'm surely the best."
Green Heart quote: "…Really, it looks like we're getting the short end of the stick."
The goddess of "Leanbox", one of the four parts of Gameshijokai. Among the goddesses she is the one that looks most grown up, with a seemingly big sister personality. In reality, she's a game and hardware otaku. In addition, since she likes cute girls, she goes wild if she sees them
After she accesses goddess form, she gives the impression of a cool beauty, even calmer than usual. But her voluptuous style doesn't change her appeal.
Riddo
(Metal Gear)
CV: Sumire Uesaka
Quote: "E...Even if you praise me like that, you won't accomp...accomplish anything!"
Profile:
Weapon used: Knife
Likes: Cardboard box, traps
Dislikes: Over-familiar people
Game genre in which she excels: Survival Games
Special Ability: Infiltration, intelligence [operations]
She has a cool and serious personality, but when unreasonable things happen, she spits venomous comments. Afraid of unexpected developments, she sets up traps and hides in a cardboard box, tending to be wary of her surroundings. In addition, when the situation develops far beyond her expectations, she often fumbles her own words.
Moruu
(Monster Hunter)
CV: Sora Tokui
Quote: "All right! Here I go!"
Profile:
Weapon used: Hammer
Likes: Fish, cat powder
Dislikes: Difficult things
Game genre in which she excels: Team action games [a la Monster Hunter]
Special Ability: Fishing
In accordance with her appearance she's the youngest among the military commanders, full of energy and naturally innocent. There are still many things she doesn't know, and she tends to rush to understand them in her own way. She can sense hiding enemies sensing only their presence, and her wild senses are strong.
Estelle
(Dragon Quest)
CV: Maaya Uchida
Quote: "Yes, that's surely a legendary situation!"
Profile:
Weapon used: Sword
Likes: Legendary things
Dislikes: Gooey things
Game genre in which she excels: Rule of Right RPG [stuff like Bravely Default]
Special Ability: Looting in the houses of other people
For better or worse, [a person] with bright, simple and innocent personality. She calls herself Hero and she's looking for legendary things, but her actions done with no ill intent often cause trouble.
Tsunemi
(Project Diva)
CV: Yuiko Tatsumi
Quote: "I...like....singing."
Profile:
Weapon used: Singing
Likes: Music
Dislikes: Noise
Game genre in which she excels: Music games
Special Ability: Composing music
She can't express her own feelings well, and has an unnatural way of speaking, like a robot. She may be robotic, but she is very sensitive to the inner feelings of other people. She can express her own feelings only when she's singing.
Sango
(Dynasty Warriors)
CV: Fuku Sanae
Quote: "Ho Ho, I'm the only and true mistress "
Profile:
Weapon used: Spear
Likes: Status - Authority
Dislikes: Anyone in a higher position than her
Game genre in which she excels: Action games
Special Ability: Dancing
She thinks she possesses absolute authority, so she ends up acting bossy in front of everyone. She likes to tease and harass people like a S[adist] girl, but it appears she doesn't hate to be punished as well?
Saori
(Tokimeki Memorial)
VA: Suwa Ayaka
Quote: "Girl power No.1! The age of sweet love dream!!"
"Things got like this must be because of the guidance of the legendary (something cant read)"
Profile:
Weapon: Letter
Likes: Love stories
Hate: Low spec things (?)
Special: Study
A girl with a maiden heart. It is said that, if she was in a dating-simulation game, she would be a main heroine for sure. She looks like a normal high school girl but in time of emergency, she can hold a weapon and fight.
Win
(Winning Eleven)
VA: Yoshida Hitomi
Quote: "There's only one target, the winning goal!'
"Pupipipipi! Leave! Red card! Red card!"
Profile:
Weapon: Ball
Likes: Sport
Hates: ?
Game Type: Sports games
Special: Soccer
She has the power of Eleven (that of 11 people)
She is a vigorous and positive soccer girl. She's simple but not selfish, even if they're a stranger or a friend, she always cares about them, that's her kindness.
RII FAI
(Street Fighter?)
CV: Ootsubo Yuka
"A Kungfu girl seeking for power"
Quote: "I'm seeking for someone stronger than me"
Profile:
Weapon: Fist
Likes: Strong people
Hates: Indecisive types
Game Type: Fighting games
Special: Kungfu
She has a well-trained body and use kungfu as a weapon to fight. She's the type that uses her fist before she thinks, because of that, she's bad with the indecisive types. She thinks the strong are the greatest. When she hears about someone stronger than her, she always listens obediently.
Lady Wakku
(Pac Man)
VA: Sakuma Kumi
Quotes: "Eat everything in the universe!"
"I'll become the top of the foodchain!"
Profile:
Weapon: Stick
Likes: Delicious things
Hates: Youth
Game type: Retro games
Special: Can eat anything
"It looks like she's popular with people from the age of 40->50"
She's an elusive girl. She often teases other people and makes them angry. Her age is a secret but compared to the other characters it is certain that she's much older. (The phrase is like she's a generation before them)
RESTORE
(Agarest)
VA: Koiwai Kotori
Quotes: "With a banana in hand, climb the stair to adulthood"
"Ah~ Wa... I'm still a child... It's too soon..."
Profile:
Weapon: Staff
Likes: Adult stories, Banana
Hates: Being away from her friends
Game type: ?
Special: Cleaning
"Bathroom Banana is every man's dream, right?"
She looks like a young child, but inside she's a strong girl and a person with common sense. When she looks at Noire's clumsiness, even as a child, she worries for her. Unexpectedly, she loves adult stories. She doesn't have any experience but she's interested in perverted things.
AIN AL
(Final Fantasy)
VA: Oonishi Saori
Quote: "The place her sword leading for is the final fantasy"
Profile:
Weapon: Sword
Likes: Cool things
Hates: People who care too much about detailed things
Game type: Epic games
Special: Can think of many stylish names
A mysterious swordsgirl. From her looks, she has a serious cool atmosphere around her but she's intentionally showing her stylishness, the so-called chuunibyou (Yes, another chuuni). She loves using difficult words, but she also occasionally shows her true colors...
Bio
(Resident Evil)
CV: Amika Takahashi
Quote: "Virus hazards accidents? Leave it to me!"
"Maybe I should rapid-fire the rocket launcher...Better not."
Profile:
Weapon used: Gun
Likes: Rocket Launcher, Reading
Dislikes: Anything sticked on the ceiling
Game genre in which she excels: Horror Games
Special Ability: Ventriloquism (Using the puppet on her shoulder)
An expert sent in the past to deal with virus outbreaks. Proficient in the use of gun and rocket launcher, it seems she's accustomed to fighting on the battlefield. She has a peculiar personality, and tends to overcome obstacles using the rocket launcher.
Dengekiko: "S, she has an umbrella and a creature on her shoulders!?"
Ai Masushima
(
[email protected]
)
CV: Satomi Akesaka
"[Her] goal is [being] Shijokai's Top Idol!"
Quote: "From now on, it's my stage!"
Profile:
Weapon used: Microphone
Likes: Idol Activities
Dislikes: Strict Tsukkomi
Game genre in which she excels: Idol Raising Games
Special Ability: Dancing
Aiming for the top, the newcomer idol who is active in Gameshijokai. At a first glance she looks innocent, but just out of sight her real, dark true personality can be spotted. However, she doesn't follow through, because it's not the result she generally wants.
Dengekiko comment: "Noire-san, it's an Idol! An Idol!"
Brossa Aizen
(Sakura Wars)
CV: Yuka Terasaki
Quote: "The first flower that blossoms on the glittering stage"
"I shall dedicate this victory to you!"
Profile:
Weapon used: Rapier
Likes: Opera
Dislikes: ?
Game genre in which she excels: Strategic Simulations
Special Ability: Acting
A beautiful girl whose strong point is acting. She's a respected girl, however can also be mistaken for beautiful boy due to her gallant behavior. Since her speech and actions are always theatrical, and also because of her charisma, there are many people she leads in the field.
Dengekiko quote: "Run forward, Shijokai's...some sort of opera group"
Jeneria G
(Gundam Generations)
CV: Eri Sendai
"Excercising control using military force is necessary -de arimasu"
Profile:
Weapon used: Spanner
Likes: Development - Design - Production
Dislikes: Overspec
Game genre in which she excels: Military Games
Special Ability: Building models (She's a pro-builder)
A super mechanic that can always do something if it's related to machines. She uses a characteristic "de arimasu" at the end of each sentence.
Puuna
(Opoona?)
CV: Rikako Ito
"There are various things, but I've settled with the bonbon only~"
Profile:
Weapon used: Bon Bon
Likes: Rights
Dislikes: Calculations (Several meanings)
Game genre in which she excels: Fantasy RPG
Special Ability: License acquisition
Regardless of merit, she uses a slow [as in "stupid"] way of speaking. She's a gentle pacifist, but when acquaintances are in trouble, she also finds the courage to take action.
The bon bon on her head is her charm point.
Little Rain
CV: Haruka Teramoto
"As a symbol of the city, I have to do the right thing till the end."
Profile:
Weapon used: Cane
Likes: Sacred things
Dislikes: Relying on something
Game genre in which she excels: JRPG
Special Ability: Making "Teru Teru Bozu" dolls (paper dolls to which children pray for fine weather - usually white, and shaped like a Buddhist priest).
Emanating an aura of purity and fragility, she is revered by people as a saint.
Having a gentle personality, she easily builds up stress, and when it explodes she goes out of control.
Ryuuka
(Yakuza)
CV:Yoshino Nanjo
"Do you understand? If you forget the [moral] code, it's the end for us."
Profile:
Weapon used: Bottles
Likes: Sake
Dislikes: People who doesn't listen
Game genre in which she excels: Adult Adventures
Special Ability: Persuasion by tears
A caring elder sister type good at taking care of people, with a coherent personality.
She has no mercy for those who endanger her friends [also means "people in the same organization", so you get the point...].
Since she speaks in a mocking tone, she makes enemies without realizing it.
SCREENSHOTS:
TRAILERS:
Situation CD
"Vert 'Me and Noire are getting married'"
Vert: "Please marry me!"
Noire: "But... I am already Neptune's..." (lie)
Vert: "Eheh... I'll make you forget that" (big lie)
TEASER TRAILER:
http://www.youtube.com/watch?feature=pl ... cqADeUe7To
PV1:
http://www.youtube.com/watch?feature=pl ... 9JC8InyHpo
PV2:
http://www.youtube.com/watch?feature=pl ... YU2asNiLU8
PV3:
http://www.youtube.com/watch?v=-2vfvY-FcSY
Trailer:
https://www.youtube.com/watch?v=LVa4C-R8A6Q