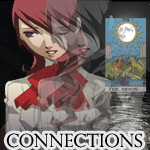 Okay, first. It ISN'T related to Persona. I just can't draw so I use whatever pics I can.
BUT, I believe I was inspired by P3 to some degree in this idea (like tarot cards) so that's the main reason I decided using P3's sprites.
Bet those of you who going to read it will hate me for taking P3's sprites and using them in such a lame work
Okay, now that I cleared this (and made most of you quit this thread
), I'll give the general summary:
Connections always exist. You may fail to see them at first, and yet they are there... buried beneath what people call 'common conception'
Genres:
Psychological, Philosophical, Mystery, Supernatural
Summary:
A collection of different stories which at first seem unrelated to each other, yet together form the plot. The story also has hidden criticism about humans and their actions. Revealing any more than this would become a spoiler so... just read it if you're interested.
Site
:
http://connections.thecomicseries.com/
Chapter 1
Chapter 2-1
Chapter 2-2
Chapter 3-1
Chapter 3-2
Chapter 4
Chapter 5
Chapter 6
Chapter 7
Chapter 8
Chapter 9-1
Chapter 9-2