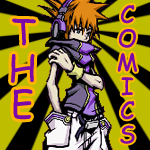 Genre
: Shonen, Comedy, Action, Fantasy, Fanfic/Parody(+/-)
Summary
: A teenager, Neku Sakuraba, wants to become an emo. But... strange things happen and somehow he ends up fighting against strange people when his weapons are nothing but pins. Well, magical pins of course
It's a comics I made by using character pictures from TWEWY (The World Ends With You). I pretty much left most of the main characters' names and personalities the same as in the game. The reason is: it'll be strange for people who played the game to read a comics with characters that look the same, but have different names and such.
Note that you DON'T have to play the game to understand the comics and there are no REAL spoilers for the game in the comics
(though those who played the game might see some similarity now and then). Those who played the game may treat it as an alternative world of the game or whatever (if you played - you know what I'm talking about).
It's starts pretty much as a collection of random jokes and you probably won't see anything too worthwhile as I originally just started a comics which supposed to be pure comedy without any logical plot. But after a while, I actually put some effort into the plot and IMO made something perhaps not "epic", but at the very least "nice".
Site
:
http://thecomics.thecomicseries.com/
Chapter 1
Chapter 2
Chapter 3
Chapter 4
Chapter 5
Chapter 6
Chapter 7
Chapter 8
Chapter 9
Chapter 10
Chapter 11
Chapter 12
Chapter 13
Chapter 14
Chapter 15
Chapter 16
Chapter 17
Chapter 18
Chapter 19
Chapter 20
Chapter 21
Chapter 22
Chapter 23
Chapter 24
Chapter 25
Chapter 26
Chapter 27
Chapter 28
Chapter 29
Chapter 30
Chapter 31
Chapter 32
Chapter 33
Chapter 34
Chapter 35
Chapter 36
Chapter 37
Chapter 38
Chapter 39
Chapter 40